Vanja Halilovic -- First MEGA KLIK girl!
Well, I have been quite surprised by the size of today's edition of KLIK! Guys, this is awesome material! Nice clean pictures! Keep it this way...
Nemozete vi napraviti toliko veliki casopis, koliki ja mogu skenirati!!!
Here are the results! Watch for size of these images. They are all around 1MB... Enjoy it! Vanja is a real doll! I like her body...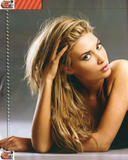 Bonus pictures...